Ash Creek Community Forest is Richland County's largest park at 354-acres. It is located two miles south of Richland Center on State Highway 80.
Ash Creek, a Class One brook trout stream, runs through the middle of this recreational property. Fishing regulations are governed by the Department of Natural Resources.
The Community Forest allows public hunting in season. There are four miles of primitive hiking, biking, and horseback riding trails. No unauthorized, motorized vehicles are allowed in the forest. The site does not allow camping or fires of any sort. There are two parking lots with a capacity of fifteen vehicles each.
For more information on Ash Creek Community Forest, contact the Richland County Land Conservation office at 608-647-8874 ext 3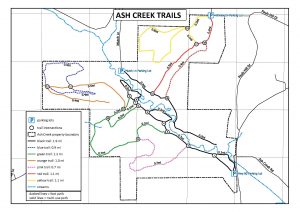 Park Location